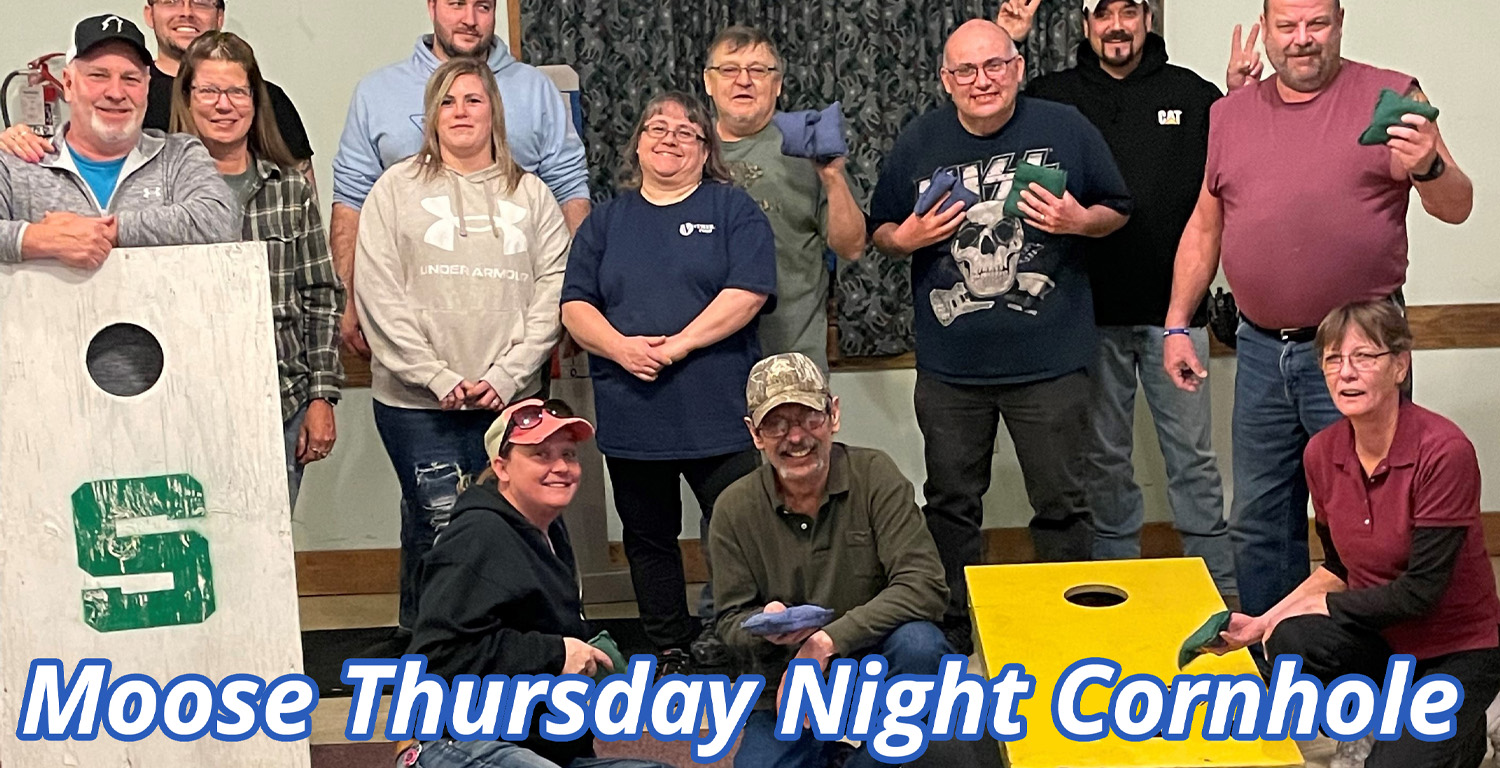 The Loyal Order of Moose is a member's only club. Members in good standing and sponsored guests are allowed. The Lodge is open to public for specified events such as bingo. For more information, please call 231-734-6181 or email infoevartmoose@gmail.com.
EVENTS
MARK YOUR CALENDAR FOR AUGUST 13th
Our annual Moose picnic and the mortgage burning and also to celebrate 26 years at our present location is on August 13th. We are planning to have a pig roast, beer will be furnished. You will need to bring a dish to pass, your own plates and silverware. Starting at 1 pm we will start serving. 7 pm at night we have a band that will be playing till 11pm. Stay tuned for more info in the next newsletter.
ACTIVITIES
BINGO: Monday nights, doors open at 4pm, play at 6pm. When Evart Schools are closed due to weather, there is NO BINGO!
GOLF: Tuesdays 4pm Moose Golf League Burch Valley Golf Course
DARTS: Tuesdays at 6pm (Fall-Winter)
BILLIARDS: Mondays at 6pm (Fall-Winter)
KARAOKE Saturdays at 8pm
CORNHOLE Thursdays at 6pm
FOOD MENU
LUNCH SPECIAL: hot dog and bag of chips $2.00
MONDAYS: food from 5pm-8pm at Bingo and social quarter
TUESDAYS: Taco Tuesday and more 5pm-8pm
THIRSTY THURSDAYS: 25 cents off all drinks, $5.00 pitchers
FRIDAYS: Fish Fry 5pm-8pm $12.00 & Bake Sale
HAPPY HOUR DAILY: 4pm-6pm 25 cents off all drinks
THE MOOSE FRATERNITY

An International Organization of Men and Women
Dedicated to Caring for Young and Old, Bringing
Communities Closer Together, and Celebrating Life.


There's no better feeling than making a difference in the lives of children, seniors and communities. Become a Moose and start making a difference today!

You may have heard the saying, "A burden heavy to one is borne lightly by many." This is at the core of the Moose organization and what makes us unique in our Lodges, local communities and charitable "cities" that we support. Our roots can be traced to 1888 and the founder of the Moose, Dr. Henry Wilson, who successfully established the first Lodge in Louisville, Kentucky. In the early years, the Moose was to serve a modest goal of offering men an opportunity to gather socially, to care for one another's needs and celebrate life together.

Since those early years, our fraternal organization rapidly expanded to include valuable service to our communities and care for children and teens in need. The external focus of our service is directed towards many worthwhile national charities, a few of which are: Salvation Army, Safe Surfin'USA Foundation, Big Brothers-Big Sisters, and St. Jude.

With a combined membership of over 1,000,000 members in the Loyal Order of Moose and Women of the Moose, our presence is felt in over 1,500 communities across all 50 states and four Canadian provinces, plus Great Britain. The Moose organization contributes between $75 to $100 million worth of community service (counting monetary donations, volunteer hours worked and miles driven) annually.

In our local Lodges, you will find a wide array of activities to participate in both as an individual and as a family. From holiday parties, dances, sports, themed dinners and live entertainment, the Moose has much to offer.  Membership can mean different things to different people. You are the one determining what you want to get out of the organization, and what you want to give back.

The Moose is about celebrating life together, serving those in need within our local community, supporting our children at Mooseheart and standing by our senior members at Moosehaven.

To find out more information on how to be a Moose, click on Apply Now.